ChatGPT was launched in November 2022, and it feels like the world – or at least the future of information work – has not been the same since.
ChatGPT is the first service that makes an artificial intelligence based on a large language model (LLM) available to the everyday user and provides an easy user interface for it. Even in this case, artificial intelligence isn't an actual "intelligence" but a mathematical model that calculates which words are likely to follow one another. However, ChatGPT does this more smoothly and with better versatility than the previous models.
At best, ChatGPT improves human productivity
At first, it may seem that the model can do anything: it types code, writes snappy articles and responds to questions. Naturally, it also does translation! In ChatGPT's user interface, it is possible to request translations and other texts using natural language prompts in the same way as when asking from another person. I asked it for a poem on selling localisation services, and it even managed to do that. In terms of style, the output was much better than what I myself would have been able to produce.
However, when you look at texts produced by ChatGPT a little more closely, you will see that it suffers from the same issues that plague machine translations by proficient neural networks, for example – the translations are often correct but usually only almost correct, and the AI may come up with sources that it cites as if scientific research.
Due to the errors it makes, ChatGPT is, in a way, very human. Regardless, this does not make the quality of its text poor in general but rather reminds us of its limitations. If you want to make use of the output of an LLM, it would be a good idea to have a human check it or, at the very least, you should acquaint yourself with what kind of text it produces in a specific context.
If you remember and are mindful of these limitations, ChatGPT is certainly a useful tool in various industries. When used properly, it increases human productivity by coming up with ideas, checking and making drafts.
What about translation?
ChatGPT is surprisingly adept at translation. In the chat user interface, translation is easy to do by using free-form requests. What separates ChatGPT from traditional machine translation tools is that you can also give it instructions for the translation task. Below are a couple examples of this. In the first, I requested a translation in the style of a pirate ( what could be more useful?), and in the second, a couple of alternative translations.


And it can also translate into several languages of your choosing with just one prompt: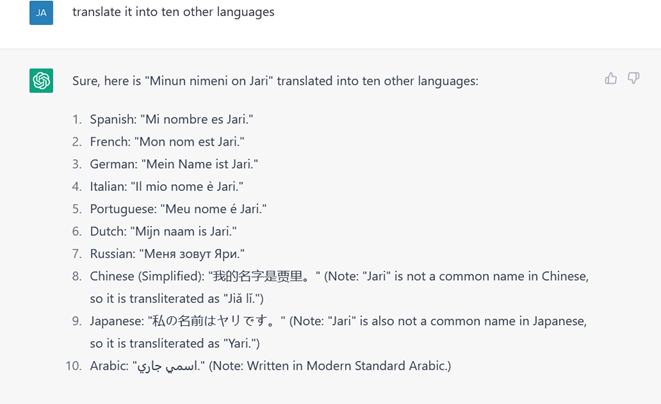 So, producing translations is easy, and they seem fairly correct as well (while my language skills aren't sufficient for assessing all of the examples). In some cases, it even adds comments that explain its decision-making process.
Thus far, there have only been preliminary evaluations on the accuracy of the translations produced by ChatGPT compared to the prevailing neural machine translations (NMT), and it appears that the translation performance of LLMs cannot compete with the more specialised machine translation tools. The difference may not be huge, but it is still significant enough to make a difference in professional settings. However, there have not been many comparative studies yet, so we should not be too quick to draw further conclusions. In any case, it seems that ChatGPT beats the neural network models in specific context recognition or memory tasks.
LLMs in professional use
The entire translation industry has now turned its gaze to large language models, wondering if they will replace NMT-based machine translation tools or even translators themselves. Talk of the eventual redundancy of translators is nothing new, but that hasn't happened so far – and I don't think it will happen now. But LLMs will undoubtedly have some sort of impact.
The examples below are simple and easy, but even they show that you get lots of possibilities for translation by using different prompts compared to traditional machine translation tools. The current machine translation tools always produce one version in a set way. You cannot influence their translation output except by training the tools on materials of your choosing or by using an adaptive system and feeding it with texts in advance.
Through the use of prompts, ChatGPT can make adjustments on the fly, which you could make use of with the help of example texts or translation memories, for example. In the same way, it also offers possibilities for editing the ready text to follow a certain style.
As ChatGPT supports well the production of entire texts, it may shift part of the translation work away from traditional translation, thus moving the focus more on creating a new text in another language. Of course, this is what translation basically is already, but due to practical reasons, translations are often very closely tied to their source language. In time, machine-assisted methods used in the translation services industry could more clearly be divided by their intended use. This means the method more closely linked to the source language could be retained in technical texts but would give way in more creative translations.
Despite the hurdles, there are endless possibilities
LLMs will inevitably become part of additional services in translation. For example, in term base work, ChatGPT can already be successfully used for rough work on short texts. Perhaps there are more uses in text analysis as well? There must be many more uses that I do not even realise or which are not even a thing yet.
So, there may be endless possibilities, but there are also many hurdles. At the moment, one of the most significant hindrances is data security: ChatGPT cannot be used privately, which prevents its use in many situations. However, I expect services with better data security and privacy to find their way to the market soon. When it comes to translation tools, accuracy also plays a crucial role, and as long as LLMs cannot compete with neural network-based models, they will have less use in professional translation.
Currently, there are more questions than answers regarding the use of LLMs in the language services industry, and no one can say for sure where these models will be used. In the coming years, LLMs and ChatGPT are certain to shape the language services industry in a decisive way and create new ways of working and new competence areas, starting from what kinds of prompts users know to use when requesting texts from AIs.
My guess is that we will have new important LLM-based machine translation tools and text-production solutions, the mastery of which will (for a time) become a competitive edge. And even this tool is used by humans, whose productivity it may increase a lot.